Richer Resources Publications
Questions? Call us toll free:
1-800-856-3060
---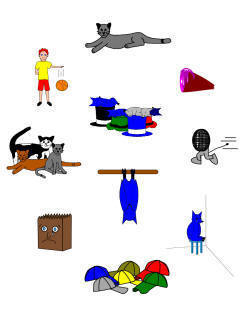 Phonics Readers
Set One
The success to teaching anyone to read is to teach one sound at a time. Our Phonics Readers practice the student in one vowel sound at a time. When the student masters one sound at a time, he or she can easily learn to read without overwhelm or confusion. In Set One, the short sound vowel of the letter "a" is practiced. It is surrounded by a number of consonants so the student gets used to its sound with the various consonants and even covers plural words containing the short "a" word. This is done at a pace which allows your student to learn this sound so thoroughly, he or she will never have a problem with it again. The stories and illustrations guarantee engaging interest and allow the reader to participate in the learning process. See each title in Set One here. Read more About Phonics here.
We have made this book available to you for previewing. Clicking on the front cover of the book image to the left will open this book up into a pdf format which can be read online.
You must have Adobe Reader to open this pdf file. If you do not have Adobe Reader on your computer, you download it free from Adobe here.
Children's/Phonics ISBN: 978-0-9776269-5-3 USD $11.95 soft cover