Richer Resources Publications
Questions? Call us toll free:
1-800-856-3060
---
Phonics Readers
Set Two
Now that your student has mastered the short sounds of the "a" vowels and has read, on his or her own, five full books, it is time to teach him or her the remaining short vowel sounds. Set Two covers the short sounds of "e," "i," "o," and "u." After reading the books in this set, if these vowels have been taught and practiced well, your student will have mastered the most difficult aspects of learning to read - the short vowel sounds. Your student will be proud of having read a full ten books on his or her own and will be ready to proceed to the more complex aspects reading by phonics. See each title in Set Two here. Read more About Phonics here.

Children's/Phonics ISBN: 978 0 9797571 8 1 $19.95 - set of 5 titles -soft cover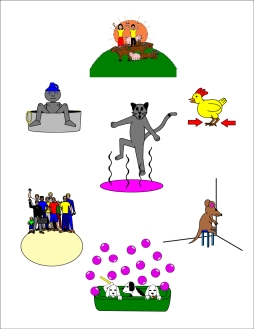 We have made this book available to you for previewing. Clicking on the front cover of the book image to the left will open this book up into a pdf format which can be read online.
You must have Adobe Reader to open this pdf file. If you do not have Adobe Reader on your computer, you download it free from Adobe here.