Richer Resources Publications
Questions? Call us toll free:
1-800-856-3060
Bill and Jill Will!
Book Nine, Set Two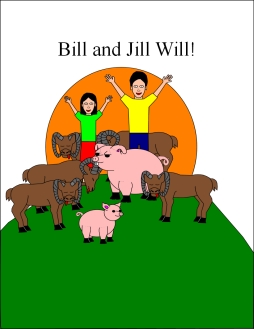 Children's/Phonics ISBN: 978-1-935238-64-5
USD $5.95/book soft cover - Set Two-Book Four
To purchase all books in Set Two, go here.
Click on the front cover of this book to pre-view it in full.
Bill and Jill Will!
Book Nine, Set Two

In Book 9, we branch out to four letter words using the short "i" sound and make use once again of the exclamation point. The student also branches out in working on short "i" surrounded by a variety of different consonants. He practices "ill," "ig," as well as the plural form of words learned earlier. Your student is now only one book away from having learned and practiced all of the short vowel sounds, and this puts that student well on the way to becoming a life-long reader.