Richer Resources Publications
Questions? Call us toll free:
1-800-856-3060
Ten Men on an Egg
Book Seven, Set Two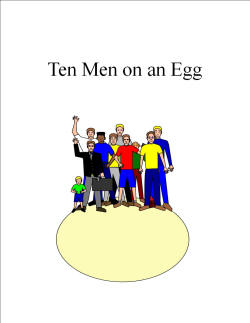 Children's/Phonics ISBN: 978-1-935238-66-9 USD $5.95/book soft cover - Set Two-Book 2
To purchase all books in Set Two, go here.
Click on the front cover of this book to pre-view it in full.
Ten Men on an Egg
Book Seven, Set Two
In Book 7, we move onto the short sound of the letter "e." This is generally the most difficult of all of the short vowel sounds for the emerging reader to learn. However, with the entire book made of words containing this sound, the student should easily be able to master this sound. As with the earlier books, both the story line and the illustrations engage the reader.