Richer Resources Publications
Questions? Call us toll free:
1-800-856-3060
3 Pups in a Tub Book Ten, Set Two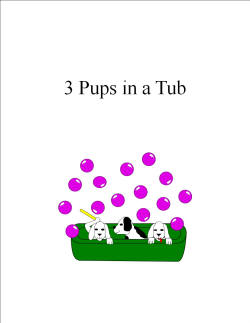 Click on the front cover of this book to pre-view it in full.
Children's/Phonics ISBN: 978-1-935238-63-8
USD $5.95/book soft cover - Set Two-Book Five
To purchase all books in Set Two, go here.
3 Pups in a Tub
Book Ten, Set Two
Book Ten tackles the "u" sound in what is one of the most loved of all of our readers. By the end this book, your reader has now learned and practiced all five of the short vowel sounds. This is the most challenging part of learning to read and, having mastered it, your readers is now well on his or her way to a lifetime of pleasant reading.
Future sets will cover two and more consonants together, "gh," "ph," "ough," "igh," and the most important phonics rules. To be notified when each new set is released, simply sign up for our mailing list and we will let you know when new books are ready.